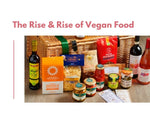 At the end of 2018, the Economist, Forbes Magazine, the Guardian and several other high profile publications proclaimed that 2019 would be the year of the vegan. Although the most up to date figures are from 2018, (3.5 million vegans and counting in the UK) there's no doubt that over the last year veganism has become much more mainstream and accessible.
As veganism increases, more people than ever are making the move towards a healthier lifestyle and reducing their intake of animal products. The range of alternatives for flexitarians, vegetarians and vegans is also significantly larger than ever before. There's been a 55% rise in the number of vegan restaurants in the UK and a huge increase in the choice of vegan options in our supermarkets and online.
Clearly the move away from eating meat is not just a passing fad. Vegans and vegetarians look set to make up a quarter of the British population in 2025, and flexitarians just under half of all UK consumers.
So what are the benefits of veganism? Why are more of us giving up meat and dairy for a happy herbivore diet?
For many it's about the animals – taking a stand against the billions of animals exploited for human gain and their suffering.
For others it's a health-based decision and research has shown that well-planned vegan diets contain all the nutrients that our bodies need. The British Dietetic Association recognises that they are suitable for every age and stage of life. 
Vegan diets are linked with lower blood pressure and cholesterol, as well as lower rates of heart disease, type 2 diabetes and some types of cancer. Scientists say that a global move to a vegan diet would avert 8.1 million premature deaths per year.
Increasingly the choice of a plant based diet comes from a desire to help the environment - If the world went vegan, it could reduce greenhouse gas emissions by two thirds. We could feed twice as many humans with today's global harvest (in 2019) if we did not feed farmed animals but rather consumed the yield ourselves. A 2018 Oxford University study – which is the most comprehensive analysis to date of the damage farming does to the planet – found that 'avoiding meat and dairy is the single biggest way to reduce your impact on Earth' as animal farming provides just 18% of calories but takes up 83% of our farmland'. 
If you are thinking of becoming vegan, want to include more plant-based recipes in your diet or just want to experiment with some new tasty recipes Italian food is a good place to start. With an abundance of healthy, natural ingredients from every region and the popularity of 'Cucina Povera' (simple, cheap cuisine with little or no meat, fish or dairy), it's easy to find recipes and ingredients which are naturally vegan.
Here's a selection of our favourite Italian vegan recipes:
1. Pizza Marinara
Pizza Marinara is vegan and only served with tomato sauce, garlic and oregano. The Marinara is a true pizza classic and comes from Naples but unlike the Margherita pizza it contains no cheese. Follow our Italian Nonna Giulia's recipe and omit the mozzarella!
2. Vegan Lasagna
This easy meat free lasagna with veggies and tofu is a vegan twist on the staple dish of the Italian cuisine. Follow this step-by-step recipe and make your own, succulent batch of tasty lasagna, full of deliciously healthy veggies and chewy Tofu bites. The veggies you include are really up to you - see what you have in the fridge! You could also use spinach or finely chopped cabbage or for example.
Ingredients for 4 people
250g lasagna sheets
2 medium courgettes
300g Champignon mushrooms
1 medium aubergine
1 medium red pepper
Salt and Pink Himalayan pepper to taste
20g ground mix of herbs of your choice (sage, marjoram, chives)
250g Tofu or Quorn style chicken pieces
10g of grated lemon zest
30ml olive oil
1/2 shallot
100 ml vegan (soya) cream
Method
Step 1. Cut the vegetables into strips, chop the mushrooms and sauté everything in a large pan with the oil and a shallot. Add a little water if necessary and cook for twenty minutes until all the liquids dry out. Let the veggies cool down and set them aside.
Step 2. Take out a baking dish and sprinkle with a little olive oil. Place a first layer of lasagne and cover well with the veggie mix, tofu bites, herbs, salt and pepper, dollops of cream and lemon zest. Go on and form various layers of pasta and filling and end with a last layer of pasta sheets. Most lasagna does not have to be pre-cooked but do check the instructions before beginning just in case!
Step 3.  Spread some small pieces of Tofu/Quorn, the rest of the herbs, lemon zest and the cream on top layer. Put in the static oven at 180 degrees for about 25-30 minutes.
Step 4. Take out of the oven and serve! If you like you can sprinkle the top with some more of your herbs of choice and a little fresh lemon zest. Serve on wide dishes with a side of mixed salad leaves.
3. Sicilian Caponata
La Caponata is a typical Sicilian dish with many varieties however the basic ingredients always remain the same: aubergines, basil, and tomatoes mixed together in a sweet and sour sauce. Additionally, most add onions, celery, olives, capers, and aromatic herbs. One thing is for absolute certain, this is always to be served with a generous helping of good Italian bread.
Ingredients
3 large aubergines cut into cubes
2 red onions, chopped
4 large plum tomatoes, chopped
2 tsps capers
50g raisins
50ml red wine vinegar
Step 1. Pour the olive oil into a large saucepan, place over a medium heat and add the aubergines. Cook for 15-20 mins until they are soft.
Step 2. Remove the aubergines from the pan and set aside, add the onions and cook for about 5 mins until soft. Add the tomatoes and cook slowly, so they break up, then add the aubergines back to the pan.
Step 3. Add the capers, raisins, celery and vinegar, season well and cover with a lid. Cook over a low heat for 40 mins, until all the vegetables are soft. Stir gently so the vegetables don't break up too much.
5. Risotto with strawberries 
This unusual, savoury dish known as 'Risotto dell'Amore' combines fruit and rice and works really well. The strawberries give the risotto a burst of flavour without too much sweetness as well as a beautiful colour.
Ingredients
200g Carnaroli rice
2 tablespoons of extra virgin olive oil
200g of strawberries
2 tablespoons of Calvados (optional)
500ml of vegetable stock
Method
Step 1. Gently heat the oil and add the rice stirring continually until toasted.
Step 2. Turn up the heat and wet the rice with 2 ladles of boiling stock, stir and then add half of the chopped strawberries. Keep stirring and when the liquid has been absorbed add another ladle of stock.
Step 3. After around 10 minutes add the remainder of the strawberries keeping some for decoration. Continue stirring the risotto and keep tasting the rice to make sure that it is not burning. If the rice is still hard add half a ladle of stock at a time to help it finish cooking.
Once ready remove from the heat, add the Calvados and leave to rest for 5 minutes before serving.
Decorate the risotto with the remaining strawberries.
6. Spaghetti with toasted breadcrumbs
Ingredients for 4 people
350g of Spaghetti
1 clove of garlic
2 tablespoons chopped parsley
1 spicy fresh chilli
100g of black olives
50g of breadcrumbs
Extra virgin olive oil
Sea salt
Method:
1. Peel the garlic clove and cut it into 2/3 pieces. Finely chop the parsley, De-stone the olives and cut them in to little pieces
2. Prepare the sauce in a pan with 3 tablespoons of extra virgin olive oil. Pour the garlic into it and leave to season for a couple of minutes. Combine the chopped pepper and mix with a wooden spoon and after a couple of minutes turn off the heat.
3. Toast the breadcrumbs in a tablespoon of oil in a non-stick pan until golden.
4. Cook the spaghetti in 3 litres of salted boiling water. Drain when 'al dente' and pour into the pan with the olives and anchovies. Saute on high heat for 2 minutes, sprinkle with breadcrumbs and parsley and serve immediately
This 'Cucina Povera' recipe, dating back to the Middle Age, is a small masterpiece of essentiality made with "poor" ingredients that mix together to give it fantastic flavours and aromas.
To prepare this tasty Italian recipe would take you no more than 15 minutes and would cost less then 2 pounds per person.
The perfect wine for this dish is a mineral dry white like Vermentino or Falanghina.
7. Farinata
Farinata is a type of thick savoury pancake (almost a flatbread) made from chick pea flour and popular on the Ligurian coast and also famous as tasty street food in Nice on the French Riviera. It makes a great snack or accompaniment to any meal and can be eaten straight from the oven or at room temperature.
Ingredients
900ml Water
300g Chick pea flour
50g Extra Virgin olive oil
10g Salt
Method
Step 1. Place the chick pea flour in a bowl and make a well. Add the water (room temperature) a little at a time and mix well until a smooth batter forms.
Step 2. Cover with cling film and leave for 4-5 hours minimum in the fridge stirring every now and again. Remove any foam that forms on the top.
Step 3. Add 50g of oil and the salt and mix again.
Step 4. Grease 3 x 32cm round tins with the rest of the oil and add the chick pea mixture, smoothing over with a fork.
Step 5. Place on the bottom shelves of a pre-heated oven (250 degrees) and bake for 10 minutes, move to the top part of the over and bake for a further 10 minutes or until the farinata has a golden colour.
Step 6. Sprinkle with pepper and eat whilst hot.
8. Panzanella (Bread Salad)
This Tuscan tomato and bread salad is a great way to use up your stale bread and can also be prepared ahead of time for picnics and packed lunches for work. Use the sweetest, plump tomatoes you can find!
Ingredients for 4 people 
4 Roma tomatoes
500g stale ciabatta or baguette bread
1 red onion
1 cucumber
50g capers
Extra virgin olive oil
Salt and pepper
Vinegar
Basil
Method
Step 1. Slice the onion and place it in a bowl with a spoon of vinegar. Leave for 2 – 2 ½ hours.
Step 2. Slice the tomatoes, the cucumbers and the bread. Place the bread in a container and splash over it a solution made with two parts water and one part vinegar.
Step 3. When the bread is damp, squeeze it and shred it to pieces in a bowl. Add the tomatoes, cucumber, onion, capers, salt, pepper and olive oil. Shred the basil over it and mix it again.
Step 4. Leave in the fridge for about 2 hours before serving.
If you are looking for the very best italian vegan ingredients take a look at our vegan hampers which are perfect for new and experienced vegans as well as for anyone embracing a plant based diet!