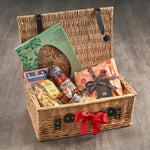 Easter is just around the corner, and that means it's time to start thinking about what Easter hamper you'll be giving your loved ones this year. If you're stuck for ideas, don't worry - we've got you covered. Here are five of the best Easter hampers in 2023, sure to put a smile on any face.
The Easter Bunny is coming, and he's bringing hampers!
Easter is always a cause for cheer, and with the arrival of the Easter Bunny, it's set to be even more eggcellent than ever! This year our favourite floppy-eared pal has got a special treat in store - personalized hampers full of delicious chocolates and treats. So rally your family together and get ready for an unforgettable surprise! The Easter bunny is coming and we can hardly contain our excitement!
Here are the five best hampers to gift this Easter season.
This Easter, delight your loved ones with something special! Whether it's a sweet treat or an extra bit of pampering they deserve, the best hampers are sure to make anyone feel special. From cheerful bunnies hopping in gift baskets to luxurious spa days and even a cuddly plush toy – there's something for all those little bunnies out there. Surprise them with a perfect Easter hamper this season that puts a smile on their faces and lets them know that you care!
1) Happy Easter Hamper
This Easter, surprise your nearest and dearest with a deliciously indulgent Happy Easter Hamper! It's a bona fide feast of Italian specialities to satisfy any foodie, from chocolate treats – that white chocolate flat egg is the stuff of dreams – to the classic Colomba Easter Cake. Best of all, each ingredient has been expertly sourced for its exceptional quality and exquisite flavour. Perfect for adding an extra touch of indulgence to this special holiday.
2) Easter Celebration Hamper
Looking to celebrate Easter with a twist? Try giving an Easter Celebration Hamper! Filled with all the classic Easter treats, a Colomba Easter Cake is sure to delight. This traditional Italian delicacy takes the shape of a dove and comes hand-made at 750g, similar to a Christmas Panettone. Moist and sweet, it's filled with a candied fruit for extra indulgence. Perfect for an unforgettable Easter celebration!
3) Happy Vegan Easter Hamper
Give the gift of deliciously indulgent Easter treats this year with our Happy Vegan Easter Hamper! Perfect for vegan friends, relatives or colleagues, this thoughtful hamper is filled with two of Italy's best vegan-friendly handmade treats. From olive oil chocolate egg to delicate fig tart, this Easter hamper ensures that the special someone in your life can enjoy classic Italian indulgences without any of the fuss. It's a sweet way to help them have a happy, vegan Easter!
4) Gourmet Easter Lunch Hamper
If you're looking to make your Easter extra special this year, then look no further than a Gourmet Easter Lunch Hamper! This incredible 18" wicker hamper is packed full of delicious goodies to provide you with everything necessary for a scrumptious culinary experience. Kick back and enjoy the delightful flavours of the finest ingredients – it's so tasty that the Easter Bunny himself would be jealous! Put the oven on and prepare a mouth wateringly-good meal with ease – it's the perfect way to spend your Easter break.
It looks like Easter is gearing up to be a delicious and indulgent holiday season, and our Gourmet Easter Lunch Hamper is sure to please. From the creamy handmade chocolates in the Chocolate Lover's Hamper to the vintage wine in the Wine Lover's Hamper, there are gifts for every taste. So why not surprise your friends and family by gifting one of the five fantastic hampers this Easter? After all, nothing says you care like a special hamper from the Easter Bunny!