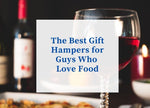 Step away from the socks and smellies!  Whether a sweet or savoury fan you are sure to find something here to impress and delight the man in your life. Whether it is for your husband, partner, boyfriend, dad, male friend or colleague there is something here for everyone, with our super selection of gourmet Italian food & organic wine gift hampers, perfect for guys who love food (and drink!).
Beautifully presented and packed with gourmet Italian products from an award-winning bottle of Chianti to heavenly organic truffle sauce. This delicious gift hamper will certainly make him a happy chappie!
Perfect for a quiet night in, everyone deserves a little indulgence occasionally, especially at the moment. So, treat your friend or relative to a taste of Italian luxury and if you are lucky they might even share!
Aged Balsamic and Parmigiano Gift Set
This carefully wrapped and presented gift is perfect for a man who enjoys simple pleasures and excellent tastes. This set combines the incredible flavour of extra virgin olive oil with thick, syrupy balsamic vinegar, great for any Italian food enthusiast.
This is the ideal present for any guys who love food - the hot and spicy kind! Pack a punch with this Chillissima Hamper complete with its fiery red box this will certainly spice up his life!
Ideal for the man on the go! Quick and easy to prepare using quality ingredients and ready mixes. Only a little time but a lot of flavour, sit back and let him do the (not so hard) work and enjoy!
If you are looking for top quality authentic Italian food and wine then you are in the right place. These gorgeous gifts and hampers will suit any guy for any occasion. From Chillissima to 5 Minute Meals whatever you chose he will certainly be a lucky man!