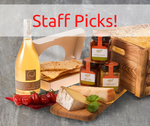 Our team choose their favourite hampers!
From our warehouse, all the way to your doorstep we take great pleasure in providing high quality goods and beautifully presented gifts. We make it our priority to know our products inside and out so who better to ask than those at the heart of our business to make the incredibly difficult choice of selecting their all-time favourite hampers, and yes, they could only choose just one!
Marco - Italian Hampers Accountant
"Being good with numbers, I recognise good value when I see it and the Vegana Hamper is my star buy! It is full to the brim with an array of vegan products that you can use to cook delicious meals from pasta with pesto to porcini mushroom risotto and the beautiful wooden create is perfect to use as storage afterwards."
Luca - Vorrei Co-Founder
"The A Taste of Calabria Hamper is a great way for me to experience a little taste of home, especially at the moment. The range of Calabrian specialities included in this hamper such as the 'Nduja spreadable salami and chilli pepper fileja pasta work beautifully to create some hearty and tasty meals- just like mamma makes!"
Nicola - Vorrei Co-Founder
"After a long day at work it's great to be able to come home and not have to worry about what I'm going to cook, as everything I need to make delicious and healthy meals is in my favourite hamper. The Italian Essentials Hamper is a must have for me and it makes a brilliant gift for friends and family too."
Marina - Hamper Packing Queen
"I'm always on the go with so many orders to pack. By the end of the day I often just want something quick and easy to prepare so the 5 Minute Meals Hamper is a godsend! I shall definitely be packing up and stocking up on these beautiful hampers as gifts for all of my friends."
Kevin - Warehouse Manager
"I like to think of myself as a bit of a chef on the quiet so the Organic Italian Chef Hamper is my top pick. The high quality products and ingredients such as the arrabbiata sauce and organic whole wheat penne rigata pasta are a great way for me to practise my culinary skills. I am getting quite good now, even if I do say so myself!"
We hope that our teams top hamper selections have given you some food for thought but don't just take their word for it. Browse our website italianhampers.com to find your favourite and lucky for you, you don't have to choose just one!