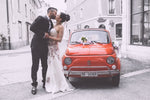 With wedding plans back on again, we thought it was time to put together a blog post on our favourite Italian wedding hamper gift ideas. Buying for newlyweds isn't always easy, especially if you're late to the wedding gift list. Faced with a £1,000 vase or £500 worth of kitchen utensils, there's often little choice but to go it alone with your own wedding gift idea.
At Vorrei Italian Hampers, we're here to save the day with delicious wedding hamper gift ideas to suit every budget: with not a John Lewis gift list in sight!
Below are our top five wedding hamper gift ideas ahead of the wedding season.
1)   Mr & Mrs Deluxe Wedding Hamper
Let's start with the most traditional of our hampers – the luxurious 'Mr and Mrs' Wedding Hamper. Say congratulations to the 'sposi' with our hamper bursting with authentic, high-quality Italian products. Forget a cheque in a wedding card, treat your newlyweds to a deluxe hamper that they'll remember. The hamper includes organic Chianti Red Wine, a bottle of organic Prosecco, Hot and Spicy Infused Chilli Oil and Chocolates.
 2)   Honeymoon Welcome Home Hamper
Looking for something a little different? A gift to soften the wedding blues once the newlyweds return home from honeymoon? Try out our Honeymoon Welcome Home Hamper! Stuffed with delicious Italian food and wine to take their mind off their return to reality. The Honeymoon Hamper includes Organic Prosecco, Five Colour Heart Shaped Pasta, Chocolates and Sparkling Wine Jelly. Guaranteed to cure any post-wedding blues!
3. Aphrodisiac Delights Hamper
If you're looking for a cheekier gift for your newlywed friends, pick up one of our Aphrodisiac Delights Hamper! Delivered in a heart shaped wooden tray, we've filled this wedding hamper with some of our most popular products that are said to hold aphrodisiac qualities. In this fun wedding gift, you'll find Chilli Pepper Modican Chocolate, Chilli Pepper Paté, Extra Fig Jam and Tropea Onion Jam.
4)   Fabulous Fizz & Chocolates Hamper
Nothing says 'Congratulations!' more on a wedding day than a chocolate and fizz filled hamper! This affordable wedding gift hamper is ideal for those on a tighter budget whilst still looking to give something memorable and delicious. In this hamper, tied with a giant red bow, you'll find a bottle of our finest Organic Prosecco and two different types of our favourite Italian chocolates.
5)   Romantic Dinner for Two Hamper
Last but not least, our final wedding hamper gift suggestion is our Romantic Dinner for Two Hamper! Ideal for any Italian foodies, this gift contains all the necessary ingredients to create a romantic dinner for two. A thoughtful gift for those embarking on married life. The heart shaped wooden tray contains Chilli Pepper Paté, Organic Ready to use Truffle Sauce and Five Colour Heart Shaped Pasta.
All of our wedding hampers contain the highest quality, authentic Italian food and wine and are the ideal gift for newlyweds who have a passion for Italian food and wine. So, discard the wedding gift list, and treat the new 'Mr and Mrs' to an unexpected, but delicious wedding hamper gift that they'll remember!